Double Serum
Worldwide bestseller*.
Your secret to youthful skin: our most powerful Complete Age Control Concentrate, enriched with 21 plant extracts.
₹5,800.00 | 30ml
₹7,800.00 | 50ml
*Within the Clarins brand, internal worldwide sales data, 2018 Double Serum range.
Tested. Trusted. Recommended.
Women around the world agree Double Serum is our most powerful age control concentrate ever! With 65 years of anti-ageing expertise, Clarins' formula is ideal for people of all ages and all skin types – even the most sensitive.

After 7 days, skin is:
91%*

Smoother
skin


87%*

More Radiant
skin

81%*

Firmer
skin

*Satisfaction test - multi-ethnic panel - 362 women
Drag the arrow
Tap the dots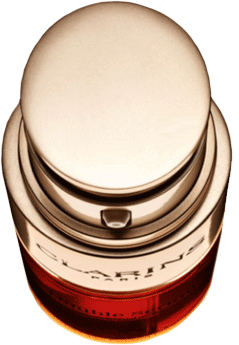 Tailored Dose
An adjustable pump design? Sweet!
Double Serum's adjustable dial pump releases a customised amount of product into your palm – from a tiny drop to a bigger drop – depending on your skin's needs.

Have it all, in one easy gesture!
Powered By Plants!
[21]

Ingredients

Double Serum's cutting edge formula contains 21 potent plant extracts – in their most optimal concentrations – including Turmeric, known for its exceptional anti-ageing benefits.
At the heart of cellular expression
Bio-inspiration is at the heart of Double Serum concept. Its double [Hydric + Lipidic] formula mimics the skin's natural water and oil content to promote a balanced, healthy-looking complexion.
Turmeric extract, Double Serum's star anti-ageing ingredient, is highly concentrated in turmerone – a molecule that was chosen for its remarkable ability to boost the skin's 5 vital functions and effectively target all visible signs of skin ageing.
Boost The Skin's
5 Vital Functions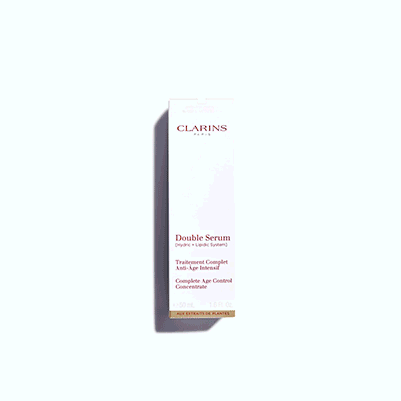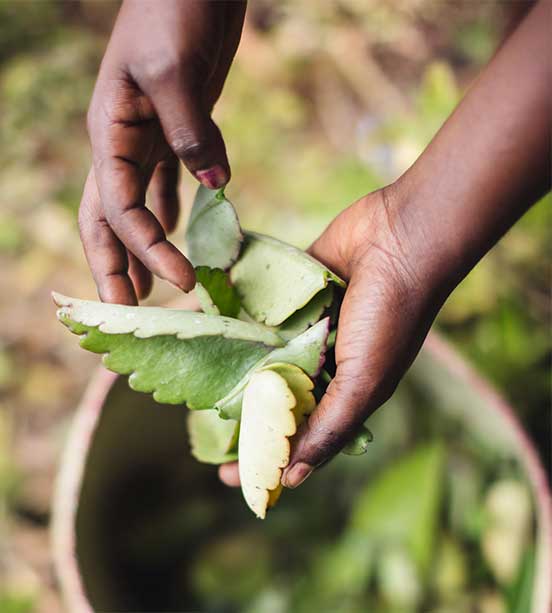 Good For The Skin.
Good For The Planet.
Responsible Beauty
Double Serum contains 9 organic ingredients and 3 ingredients that are Fair Trade Certified. Clarins created the most natural formula possible which includes organic ingredients sourced from fair trade practices, whenever possible.
Less Waste
Double Serum's eco-friendly bottle is made from recycled materials and now requires less packaging. The double pump bottle delivers just the right amount of product for your skin's needs to prevent overconsumption.
The Secret To Achieve A Youthful Skin
Double Serum's unique and innovative formula boosts the effectiveness of anti-ageing creams.

For optimal results, pair Double Serum with Multi-Active, Extra-Firming or Super Restorative moisturisers.

Anti-Ageing Moisturisers For Every Concern
Your Complete Anti-Ageing Routine
Treat First
Signs Of Ageing
Prevent early signs
of ageing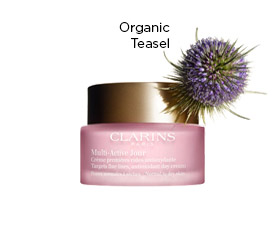 Multi-Active
• Combats the first signs of ageing
• Leaves the skin smooth, fresh and plumped
• Illuminates and enhances complexion

Treat
Fine Lines
Reduces fine lines
and wrinkles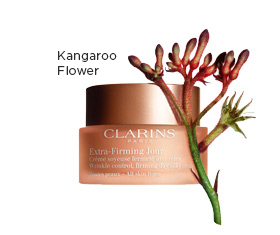 Extra-Firming
• Wrinkles are visibly reduced
• Skin is firmer and rejuvenated
• Complexion is smoother and more even


Treat
Deep Lines
Restore skin firmness
and treat deep lines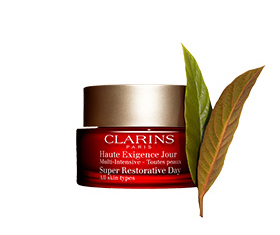 Super Restorative
• Smoothes skin
• Boosts radiance
• Evens skin tone




Discover Clarins Iconic Beauty Touch
on How to Apply Double Serum